Powerful and Industrial Cubic NdFeB Magnets: Revolutionary Magnetic Solutions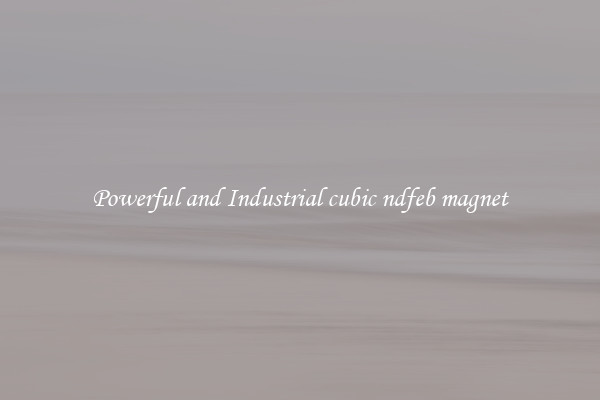 Magnets are an integral part of our daily lives and have become a crucial component in numerous industries. Whether it is for manufacturing, transportation, medical devices, or renewable energy, the demand for powerful and industrial magnets has continually grown.
Amongst the vast variety of magnets available, cubic NdFeB (Neodymium-Iron-Boron) magnets standout due to their exceptional strength and versatility. These magnets are formulated using a combination of neodymium, iron, and boron, allowing for an impressive magnetism that surpasses other types available in the market.
With their superior magnetic properties, cubic NdFeB magnets offer a range of applications that maximize efficiency, productivity, and performance across various industries. Here are a few notable uses of these powerful magnets:
1. Manufacturing: NdFeB magnets are extensively used in the manufacturing industry, particularly in the production of motors, generators, and magnetic bearings. Their high coercivity and magnetic strength make them ideal for creating compact yet powerful devices.
2. Medical Devices: The medical industry benefits greatly from cubic NdFeB magnets in diagnostic equipment, MRI machines, and dental tools. These magnets aid in imaging, provide precise diagnosis, and play a vital role in the functioning of medical devices.
3. Renewable Energy: The clean energy revolution heavily relies on magnets, especially when it comes to wind turbines and electric vehicle motors. The power of NdFeB magnets enables efficient energy generation and conversion, making them vital to furthering sustainable energy solutions.
4. Transportation: In the automotive industry, cubic NdFeB magnets are used in electric and hybrid vehicles, powering the electric motors that drive these eco-friendly alternatives. The magnetic strength and durability of these magnets contribute to enhanced performance and increased efficiency.
5. Electronics: From speakers to hard drives, headphones to computer fans, many electronic devices leverage cubic NdFeB magnets for their compact size and high magnetic force. These magnets ensure efficient operation and durability in electronic products.
The unique properties of NdFeB magnets offer a range of benefits in various applications. Some of their notable characteristics include high magnetic strength, resistance to demagnetization, and the ability to withstand extreme temperatures. These features make cubic NdFeB magnets an excellent choice for applications that require powerful magnetism and long-lasting performance.
However, it is crucial to handle these magnets with caution, as their strong magnetic force can cause injury or damage if mishandled. Adequate safety measures, such as wearing protective gloves and keeping the magnets away from electronic devices, are essential when working with these powerful magnets.
In conclusion, cubic NdFeB magnets are revolutionizing the industrial and technological landscape. Their incredible strength and versatility make them an ideal choice for numerous applications across industries, including manufacturing, healthcare, renewable energy, transportation, and electronics. As the demand for powerful magnets continues to grow, the role of cubic NdFeB magnets in advancing industrial and technological solutions is set to expand further, paving the way for a future powered by exceptional magnetism.